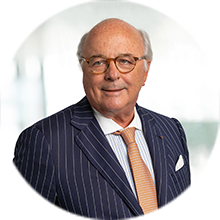 Norbert Becker
Norbert started his career with the Financial Services Regulators in Luxembourg in 1974, where he was in charge of the regulatory supervision of financial institutions.
In 1979, he founded the Andersen firm in Luxembourg and became its Managing Partner. In 1994, he was appointed member of the European Operating Committee of Andersen and served as a Regional Managing Partner, in charge of Central Asia, Eastern Europe, India and the Middle East. In 1998, he was appointed Global Managing Partner of Finance, Administration and Infrastructure of Andersen, the Global Firm and moved to New York and London. As from 2002, he acted as CFO of Ernst&Young on the global board. In 2004, he returned to Luxembourg and launched various business ventures, including ATOZ, and Compagnie de Banque Privée. Norbert serves on the boards of several international corporations and joined the Lombard International Board of Directors in July 2009.
Norbert is involved in numerous foundations and non-profit institutions, such as the European Leukodystrophies Association and the American Hospital in Paris, as a member of the advisory board and the board of Governors respectively. He is also a member of the Amis des Musées in Luxembourg.
Norbert was elevated to the rank of "Commandeur de la Couronne de Chêne" in Luxembourg. He was awarded the Paul Harris Fellow of Rotary International and was elected most influential economic leader in 2018.